rain rain go away, please! Seattle is having very winter-like weather at the moment, and i am NOT happy about it. Especially after just getting back from sunny san diego a couple of days ago.
Jonathan and I took a trip to San Diego, and met up with his parents for the week. Usually we all go there for the Oceanside 70.3 tri-athalon that jonathan and his dad do, but unfortunately this year it sold out too fast and they weren't able to participate. So instead we got a relaxing week beachside! we shopped, and ate, and ate, and shopped. so after a week of 80 degree weather i am so
so SO
ready for warmer weather. but, i suppose for now i will make due with these loverly spring-like beauties...
i am in love with these rifle paper co invitations! anna bond (the genius behind it all) hand stitched all the flowers and then embellished with some paint. after making the prototype she scanned them in the computer and printed out the rest. i love how you get the hand made feel without having to actually do all the work :)
and this! oh my! a loverly easter day engagement shoot. how perfect for this special weekend! the colors, and that little bunny make my heart hop.... get it? hop. like bunny.
twigs and honey have been a go-to shop for me for a while now. they make absolutely beautiful hair and body adornments for women, and it never even occurred to me that they could do the same thing for men. and then i saw these puppies... i love them. they would look so good with the grey suits that jonathan and his groomsmen have picked out, and then after the wedding i get to borrow it!
these shoes=spring. i wanna wear sandals!!!
bravo anthropologie. you never cease to amaze me, or drain me of all of my money. this skirt manages to satisfy my need for spring, and my current Mad Men obsession. (i know i am a little late for the Mad Men train, but I just started watching it and i loooooove it. excluding the whole inferiority of women thing...)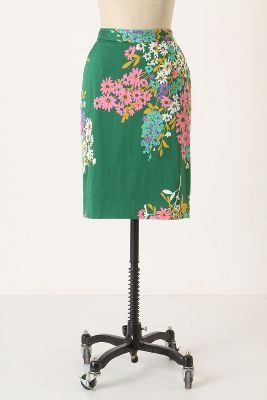 ok, well thats enough wishful thinking for one evening. i need to start preparing for our annual Easter lunch tomorrow with all of our Oklahoma orphan friends. Happy Easter everyone!!!
bisous!
xoxoxo